Sprint Series adventure race course consists of running, kayaking and mountain biking legs (one or two of each). To keep you excited and maintain your enthusiasm for the unknown, the exact course is held secret until check-in at the venue on the morning of the event. Order of legs and the race scheme will be published and sent out to registered participants 2 weeks prior to the event.
Fingal Bay is one of the top NSW spots for adventure racing and everyone's favourite holiday destination.
Courses
Two courses are available: Novice and Classic.
Classic event will retain all the great things we kept polishing over the last 11 years. The advanced leg is available for the first 20 teams in the Classic category. Everything else is secret for now!
Novice course is an introductory option for those first-timers still unsure. This is the best chance to step up and do a full-on adventure race in a shorter and more accessible version.
More details?
The kayaking stage is held in the Fingal Bay inlet. Stable double sit-on-top boats, paddles and PFDs are supplied as a part of your entry at the start of the leg. Any kayaking experience will be an advantage, however, even if you have never tried kayaking before you will be fine as the kayaks used in the Sprint Series Adventure Race are comfortable, exceptionally stable and designed for beginners.
Running stages are held along 4wd trails, walking paths and off-road.
Mountain biking sections consist of 4wd trails. Mountain bike legs are designed to be comfortable and enjoyable for beginners. Using a proper mountain bike will be a wise idea, and obviously, skills and strength will give extra benefits!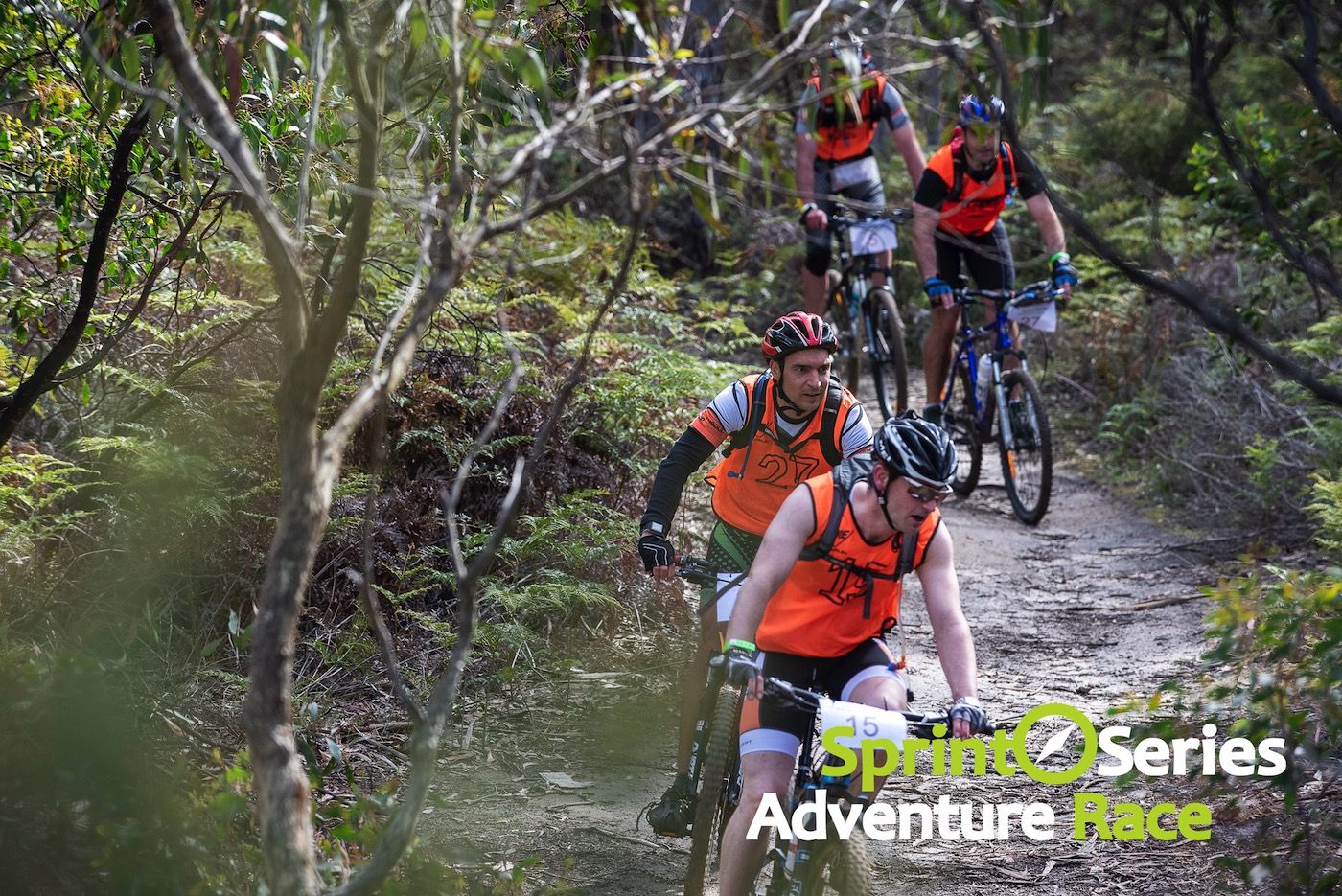 The overall duration of the course is approximately 3-3.5 hours for midpack - there is an advanced leg to further challenge those super-fast teams, and if slower teams prefer to take their time and soak up the experience we may sometimes (although very unlikely) suggest that you skip some sections.
The course of each leg is determined by control points and you will obtain instructions on how to get those checkpoints in your team race pack on the morning of the event. Instructions could comprise a map, a marked course, some photos, or whatever! So prepare yourself for the unexpected, make sure to read the final instructions sent two weeks before the event, and have all your compulsory gear ready!
This is not a relay - both of the teammates have to stay together for the entire event and find all checkpoints together- yes, this is an additional challenge to bring your teammate home (or they bring you).
The course is designed in such a way to highlight the best features of the area so checkpoints are located in picturesque and exciting places that you would rarely visit on your own.
Approximate distances
For the Classic course:
Run - 5 km.
MTB - 20 km (advanced leg will add approximately 12km).
Kayak - 4 km.
For the Novice course:
Run - 3 km.
MTB - 10 km.
Kayak 2 km.
Below is an example layout of the course, from the 2021 event.